POW/MIA Flag History
In 1971, Mrs. Mary Hoff, an MIA wife and member of the National League of American Prisoners and Missing in Southeast Asia, recognized the need for a symbol of our POW/MIAs.  Prompted by an article in the Jacksonville, Florida TIMES-UNION, Mrs. Hoff contacted Norman Rivkees, Vice-President of Annin & Company which had made a banner for the newest member of the United Nations, the People's Republic of China, as a part of their policy to provide flags to all UN member nations. Mrs. Hoff found Mr. Rivkees very sympathetic to the POW/MIA issue, and he, along with Annin's advertising agency, designed a flag to represent our missing men.
Following League approval, the flags were manufactured for distribution.
The flag is black, bearing in the center, in black and white, the emblem of the League. The emblem is a white disk bearing in black silhouette the bust of a man, watch tower with a guard holding a rifle, and a strand of barbed wire; above the disk are the white letters POW and MIA framing a white 5-pointed star; below the disk is a black and white wreath above the white motto YOU ARE NOT FORGOTTEN.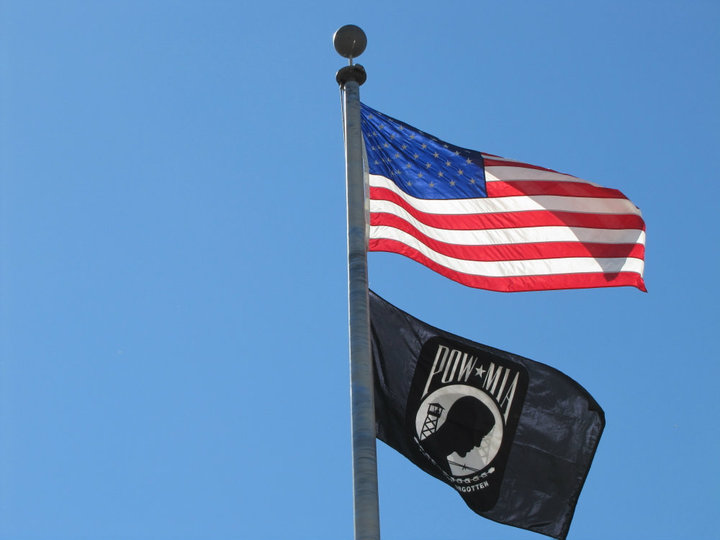 POW Flag Law and Etiquette
Public Law 105-85 (Section 1082) requires the POW-MIA flag to be displayed each year on POW-MIA flag days at specified Federal buildings, memorials, national cemeteries, Department of Veterans Affairs medical centers, and post offices.
Prisoners of War and those Missing in Action come from EVERY STATE, thus the POW/MIA flag has precedence over state flags.
It's presence serves to remind us that, while we enjoy the privileges of freedom, somewhere there are soldiers who have not been accounted for and may, in fact, be held against their will by the enemies of Freedom.
Flag Raising Ceremonies
The chapter supplies POW/MIA flags ($40 each) to courthouses, fire departments, post offices, veterans memorials, various organizations and interests groups, and organizes flag raising ceremonies promoting public awareness about the POW/MIA issue. The chapter also conducts flag raising ceremonies at area businesses.